Why South Korea is proposing a reunification tax
(Read article summary)
A reunification tax proposed Sunday by President Lee Myung-bak would help South Korea's economy recover from the more than $1 trillion cost of merging with economically-stunted North Korea.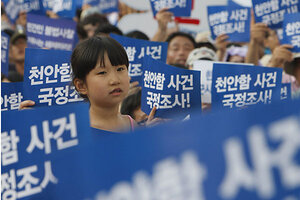 Truth Leem/Reuters
• A daily summary of global reports on security issues.
South Korean President Lee Myung-bak outlined a three-step reunification plan for North and South Korea and proposed a tax to support reunification in a speech Sunday.
The move comes as reunification seems more distant than ever: Tensions are running high and bilateral relations are at a new low in the wake of the sinking of the South Korean Navy ship, the Cheonan, on March 26, which killed 46 South Korean sailors. The South has blamed the sinking on a North Korean torpedo attack.
Mr. Lee made the proposal in a speech marking the anniversary of South Korea's liberation from Japan in 1945. He warned the North against further provocation, and said the South would not tolerate such acts. In recent weeks the North has captured a South Korean fishing boat and launched artillery fire from its shore, some of which landed in South Korean waters. Last year, it conducted a test of a nuclear device and launched long-range missiles.
But Lee also said that "reunification will definitely come," and outlined the process under which it could take place. The first step would be denuclearization of the North to form a "peace community," then would come economic integration, and finally total unification.
---