UN's Gaza flotilla probe finds Israeli soldiers committed 'willful killing'
(Read article summary)
Israel rejected the UN Gaza flotilla probe's findings as 'biased.' In Turkey, most politicians welcomed the news and praised the panel's objectivity.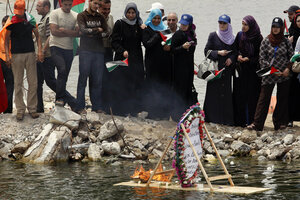 Hatem Moussa/AP Photo
• A daily summary of global reports on security issues.
A United Nations Human Rights Council investigation concluded that the Israeli military broke international laws during a raid on a Turkish ship that was part of an aid flotilla trying to deliver humanitarian supplies to Gaza.
The council's report, announced Wednesday, was met positively by Turkey but dismissed by Israel as "biased." The report is separate from a UN flotilla inquiry backed by Secretary-General Ban Ki-Moon, which includes both an Israeli and a Turkish representative and is seen as carrying more weight than the UNHRC's investigation – but has not yet concluded its work.
In a 56-page report (pdf), the UNHCR's three-member panel wrote that Israeli commandos had committed war crimes during their May 31 raid of the aid ship the MV Mavi Marmara that left nine pro-Palestinian activists dead. Although Israel contends that its soldiers acted in self-defense, the council found that their response was "disproportionate" and that soldiers exercised an "unacceptable level of brutality."
IN PICTURES: The Gaza flotilla and the aftermath of the Israeli naval raid
---
Follow Stories Like This
Get the Monitor stories you care about delivered to your inbox.