Shimon Peres: Israel can aid US security by making peace with Palestinians
(Read article summary)
Israeli President Shimon Peres told Jewish leaders Thursday night that Israeli-Palestinian peace is critical to strengthening an anti-Iran coalition in the Middle East.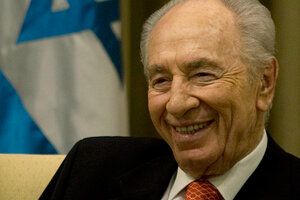 Sebastian Scheiner/AP
• A daily summary of global reports on security issues.
Israeli President Shimon Peres said Thursday night that Israel needed to better understand the security needs of the United States, and that peace with Palestinians is critical to US security in regards to Iran.
But his remarks come even as the diplomatic process for peace with Palestinians is deadlocked due to Israeli unwillingness to implement another freeze on building Jewish settlements in the West Bank, the area expected to be the core of a Palestinian state should a peace deal ever be reached.
"In our own small way we can be of help, and of help means (to) enable an anti-Iranian coalition in the Middle East. And the contribution will not be by a declaration, but if we will stop the secondary conflict between us and the Palestinians," Peres said to Jewish leaders in an address also broadcast on Israel Radio, according to Reuters.
"We fought alone, but we cannot exist alone. For our existence we need the friendship of the United States of America. It doesn't sound easy, but this is the truth," Peres said at the Jerusalem conference of the Jewish People Policy Planning Institute.
---