Obama arrives at NATO summit with a revised US strategy in Afghanistan: Stay past 2014
(Read article summary)
As Obama prepares for a longer commitment in Afghanistan, he must also convince allies convening at this weekend's NATO summit in Lisbon to extend their support.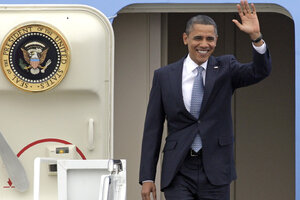 Andre Kosters, Pool/AP Photo
• A summary of global reports on security issues.
Following much speculation that NATO members convening in Lisbon today would announce the end of combat operations in Afghanistan by 2014, it now appears that they will also announce plans to have a footprint in the country long beyond that.
Under the new plan, NATO-led forces will hand over control of the country province-by-province to the Afghan Army and Police by 2014. The conditions based timeline has US and other international forces remaining in Afghanistan long into the future.
Although President Barack Obama had initially run his presidential campaign on turning around the war in Afghanistan, The Los Angeles Times reports that this is the first time he has acknowledged that doing so will take years. Military officials have long suggested that victory in Afghanistan will take time, but until now President Obama has not publicly supported such a plan.
For military strategists, the increased window of time is likely to come as welcome news and a potential game changer for the overall war effort.
---