Taliban-placed IEDs threaten lives and stability in Kandahar, Afghanistan
US officials are dubious about the prospect of Kandahar's stability continuing into spring 2011, given ineffective police, poor governance, and Taliban IEDs.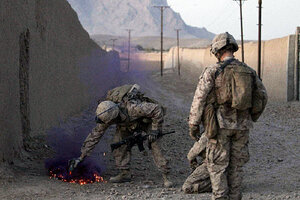 Finbarr O'Reilly/Reuters/File
On a recent patrol convoy that lumbered across the barren, rocky fields of Malajat, an area located on flatlands on the eastern outskirts of Kandahar City, Afghanistan, soldiers from the US Army's Charlie Company spotted a D-cell battery hidden under a pile of rocks – a telltale sign of an improvised explosive device, or IED.
They began to backtrack from the dirt field. A soldier called in the field's location to headquarters; a team with anti-IED equipment would presumably visit the field soon. On that day, Charlie Company emerged unscathed, but situations just like that occur daily across Kandahar, sometimes with deadly outcomes.
"You never know if today is going to be your day," says Lt. Mark Anderson, Charlie Company platoon leader.
IEDs have become a primary threat to security in this part of Af­ghanistan. In the months after President Obama's summer troop surge, coalition forces pushed the Taliban out of Kandahar and have begun labeling as a success the offensive in Kandahar City, as well as those in the nearby districts of Arghandab, Zhari, and Panjwai. They say the level of violence in the city has decreased and the areas outside of the city are largely under coalition control.
But a number of sizeable obstacles, including IEDs, remain hidden beneath the surface here.
According to recent reports, US officials in Washington are dubious about the prospect of Kandahar's stability continuing into spring 2011, when the fighting season resumes after the cold winter months. Officials point to an ineffective Afghan police force, poor governance, Taliban sympathizers, and Taliban IEDs as barriers to long-term stability in Kandahar.
---