North Korea threatens retaliation for South Korean military drill
(Read article summary)
North Korea sees South Korea's plans to conduct a live-fire artillery drill this weekend as "needlessly provocative," but the US insists it is normal and necessary.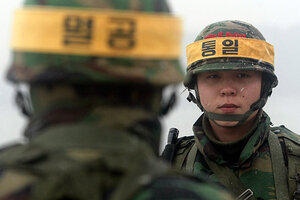 Ahn Young-joon/AP
North Korea has threatened violent retaliation if the South goes through with a live-fire artillery drill this weekend. The South is planning to hold the training exercise on Yeonpyeong Island, the scene of the North Korean bombardment on Nov. 23 that left four South Koreans dead.
With tensions on the Korean peninsula at a peak, the South's persistence in conducting the drill is being seen as a show of force to the North, but also as needlessly provocative given the tense state of affairs.
"It is appalling. If it was a bona fide need for artillery practice they have plenty of islands in the Western Sea," Leonid Petrov, a professor at the University of Sydney who specializes in Korea, told the Guardian. "This is simply sending a message that the South is putting pressure on the North – but at the same time refuses to negotiate."
If the South conducts the drill, the North has warned that the "strength and scope of the strike" will be "more serious" than its November attack, reports Iran's Press TV. Officials in Pyongyang insist that it attacked Yeonpyeong in November in response to previous South Korean live-fire training exercises.
---