Pakistan's political crisis could complicate fight against Taliban
(Read article summary)
The Pakistan political crisis worries the US government, which considers a strong Pakistan government key to winning its war in neighboring Afghanistan.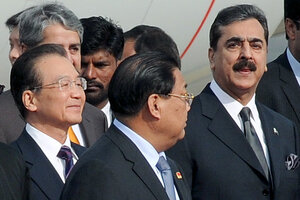 AP Photo
• A daily summary of global reports on security issues.
Pakistan's Prime Minister Yusuf Raza Gilani talked to opposition leaders Monday in an attempt to keep his government afloat after a key party left his coalition. The political upheaval could distract the government from its fight against militant groups, including the Taliban.
The US considers Pakistan's cooperation in fighting the Taliban key to winning its war in neighboring Afghanistan, and will not be pleased by a government too weak, unpopular, or preoccupied to concentrate on the task.
Bloomberg reports that Mr. Gilani, of the Pakistan's People's Party, talked with the leader of the second-largest opposition group in Parliament Monday after the Muttahida Qaumi Movement (MQM) left Gilani's ruling coalition the same day. The departure left the coalition without a parliamentary majority. The MQM's departure is a second blow after a smaller party, the Jamiat-e-Ulema-e-Islam, left the coalition last month.
The Washington Post reports that even if Gilani's party is able to keep its government from collapsing, the crisis will weaken it, "diverting attention" from its fight against the Taliban.
---