What another $2 billion in US military aid means for Pakistan
Despite recent tensions between Islamabad and Washington, Pakistan is set to receive another $2 billion in US military assistance over the next five years.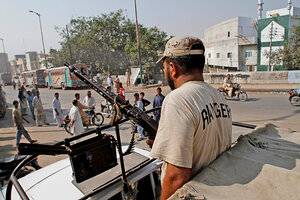 Shakil Adil/AP
The US announced a $2 billion military aid package to Pakistan on Friday to bolster Islamabad's efforts to combat militants and assist with Afghanistan war.
The news comes amid bombings on Friday that killed a combined nine people, including six soldiers, in Peshawar and Pakistan's northwest tribal region.
The five-year package, which requires Congressional approval, is likely to be seen here as a strong diplomatic victory that signals a commitment to Pakistan extending beyond the slated withdrawal of US forces from Afghanistan in 2011 – and despite recent tensions between Washington and Islamabad.
The package is designed to compliment a $7.5 billion civilian aid deal, which was approved in 2009 and is intended to help thwart extremism through development projects.
"The United States has no stronger partner when it comes to counterterrorism efforts against the extremists who threaten us both than Pakistan," Secretary of State Hillary Clinton said Friday at the close of three-day strategic talks between the two nations in Washington.
"This symbolizes a long-term commitment to help Pakistan improve its counterterror capacity and deal with threats emanating from the Afghanistan-Pakistan border but also elsewhere," says Rifaat Hussain, a security analyst and the Quaid-i-Azam University in Islamabad. "It reiterates that the US-Pakistan relationship is for the long term and America will be able to help Pakistan military."
---