Rafik Hariri: Lebanon on edge as UN warns against indictment speculation
(Read article summary)
Rafik Hariri assassination investigation and pending indictment by UN, prompts Hezbollah demonstration. The UN tribunal, looking into the death of former Lebanon Prime Minister Rafik Hariri, attempted to diffuse tension in Beirut Tuesday.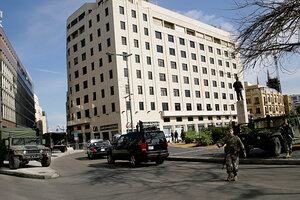 Grace Kassab/AP
• A daily summary of global reports on security issues.
The UN tribunal investigating the assassination of former Lebanese Prime Minister Rafik Hariri warned Tuesday against making assumptions about the sealed indictment it filed Monday – even as supporters of Hezbollah, expected by many to be named in the indictment, made a show of force in Lebanon's capital, Beirut.
Reuters reported Tuesday that several schools were closed, security forces blocked off a main road to government offices in Beirut, and Beirut residents reported groups of Hezbollah supporters gathering around the city in the early morning. The activity heightened concerns about a repeat of events in May 2008, when armed Hezbollah supporters took over parts of the city. The violence left dozens dead.
While Tuesday ended peacefully, albeit tensely, in Beirut, it will be weeks before the contents of the indictment – including who is accused – are made public. In addition, several other complications and obstacles will remain, including the tribunal's lack of a police force and reliance on Lebanese authorities to arrest anyone in Lebanon who is accused, the AP reported.
---