Pakistan court extends detention of US embassy official
(Read article summary)
A Pakistan court is continuing to hold US official Raymond Davis, who is accused of killing two Pakistani men. Some Pakistanis are now calling for him to be tried on terror charges.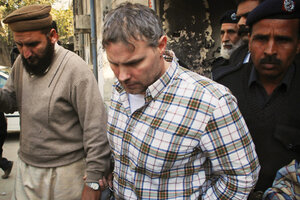 Tariq Saeed/Reuters/File
• A daily summary of global reports on security issues.
Pakistani authorities have extended the detention of a US consulate employee who is accused of killing two Pakistani men. He claims he shot the two men, who were trying to rob him, in self-defense.
A third man was killed when a US consular vehicle ran him over as it came to the aid of the employee, Raymond Davis.
The incident has heightened tensions in Pakistan, where anti-American sentiments run deep due in no small part to US drone strikes in the tribal areas, the war in Afghanistan, and the government's alliance with the US. American officials say that Mr. Davis has diplomatic immunity and should be released.
Davis has admitted to shooting the two motorcyclists in Lahore, but says they were armed and threatened him. The US embassy in Islamabad has backed Davis's version of events, but Pakistani authorities say they need more time to conduct investigations, reports the BBC. Pakistani authorities are charging Davis with murder and possession of an illegal weapon. They say that Davis is not on the list of US officials authorized to carry a gun in the country.
---