Pakistan demands drawdown of US drones, CIA agents
(Read article summary)
The disclosure comes after the head of Pakistani intelligence abruptly cut short a trip to Washington this week after meeting with CIA director Leon Panetta yesterday.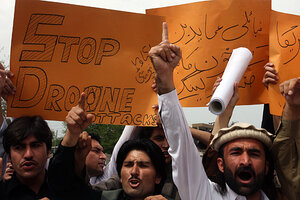 Mohammad Sajjad/AP
• A daily summary of global reports on security issues.
Pakistan officials are demanding a drastic reduction in the number of US agents working covertly in the country, as well as a complete halt to drone attacks targeting militants in the country's northwest, The New York Times reports.
Such a reduction would be a major blow to America's ability to monitor and thwart the activity of militant groups, particularly those who use the northwestern part of the country as a launch pad for attacks on US troops in Afghanistan.
The demand is a direct result of the Raymond Davis debacle, which exacerbated tensions between the US and Pakistan and underscored a lack of trust between the two countries' intelligence agencies.
In January, Mr. Davis, a CIA contractor working secretly in the country under the guise of being a low-level US embassy employee in Lahore, shot and killed two young Pakistani men who he said were trying to rob him. It was believed he was in the country attempting to penetrate the Pakistani militant group Lashkar-e-Taiba.
US insistence on his diplomatic immunity and Pakistani insistence on trying him in a local court put an enormous strain on relations between the two countries, already weakened by disagreements about drone attacks.
---