Who will lead Yemen now?
(Read article summary)
With President Saleh in Saudi Arabia for medical treatment, Yemen's various opposition groups may have achieved their aim of ousting him, but they have divergent post-Saleh goals.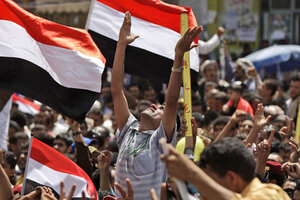 Hani Mohammed/AP
• A daily summary of global reports on security issues.
Yemen's main political opposition accepted a transfer of power to the country's vice president after President Ali Abdullah Saleh traveled to Saudi Arabia for medical treatment following an attack on his compound Friday. But it's unclear who will replace President Saleh more permanently if he doesn't return, and whether Vice President Abdul Rabu Mansoor Hadi will be accepted by the other groups vying for Saleh's ouster.
Saleh was injured Friday when opposition tribesmen shelled the presidential compound, targeting a mosque during Friday prayers. Saleh's forces and Yemeni tribesmen, who have engaged in pitched battles for nearly two weeks in the capital, continued fighting this weekend, the Washington Post reports, despite a truce brokered by Saudi Arabia.
The capital erupted in fireworks after his departure, which some saw as permanent, given his injuries and increasingly weak political position. But the government rebuffed the political opposition's call for the establishment of a temporary coalition government, saying that Saleh was still Yemen's president and would return to the country soon. In the interim, Vice President Abd al-Rabo Mansur al-Hadi was named as acting president.
---