Yemen's Saleh could be away for months, complicating transition plans
(Read article summary)
Yemen's political opposition and protesters are pushing for an immediate transition amid reports that Saleh's injuries are worse than previously admitted. But his supporters are intent on his return.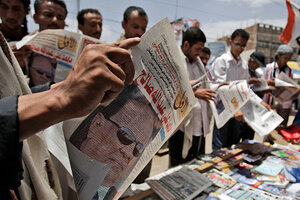 Hani Mohammed/AP
• A daily summary of global reports on security issues.
The disclosure that Yemen President Ali Abdullah Saleh could spend months convalescing from injuries more severe than previously reported is spurring political maneuvering as a potential power vacuum looms. Amid ongoing fighting in Yemen's capital between Saleh loyalists and rebel tribesmen, political opposition and youth protesters are pressuring the acting president to finalize Mr. Saleh's ouster.
President Saleh was injured on June 3 when his presidential compound was shelled by opposition tribesmen. The attack has reportedly left him burns on 40 percent of his body, including his face, some of them severe. Citing unnamed Arab and Western diplomats, The New York Times reports that Saleh is expected to need far more than the few days of recovery first predicted by Yemeni officials.
Saleh's extended stay in Saudi Arabia is likely to complicate Yemeni, Saudi, and US efforts to transition to a post-Saleh era. The US and Saudi Arabia have both pushed for Saleh's resignation in recent weeks, but no consensus has been reached on how to proceed now that he is in the hospital. Reports of his condition in Yemen vary with the Yemenis' political wishes, the Times reported: Those who want Saleh to remain in power downplay his injuries and say he is returning soon, while those who want him out say he is severely injured.
The political opposition coalition is pushing Vice President Abdul Rabu Mansoor Hadi, who has been named acting president in Saleh's absence, to formally assume the president's powers, Bloomberg reports. Hundreds protested in front of his home on Tuesday to demand action.
---