See no evil? Activists doubt credibility of Arab League mission to Syria.
(Read article summary)
Activists are concerned that Arab League observers could leave Syria with a falsely favorable report because of government cover-up and a tainted head of mission.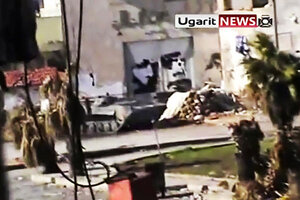 Ugarit News Group via APTN/AP
• A daily summary of global reports on security issues.
Arab League observers are touring Syria's most tense cities to ensure the government is withdrawing the Army and bringing an end to widespread bloodshed. But activists are expressing great skepticism about the mission's ability and willingness to accurately gauge the situation on the ground.
Because the observers represent the first international intervention in the country and the foreign press remains largely barred, the mission is a rare window into circumstances on the ground, where the United Nations estimates more than 5,000 have died. If the mission returns with a falsely favorable report, it could raise further obstacles to bringing the violence to an end.
At the end of a visit Tuesday to Homs, the country's third largest city and one of the focal points of the uprising, the head of the mission called the situation "reassuring so far," BBC reports. He did, however, acknowledge that there were some places where the situation was "not good."
Activists estimate that a third of the 5,000 deaths in the uprising have occurred in Homs, dozens of them in the past week, according to Reuters.
Video reports, which cannot be independently verified, have shown parts of Homs looking like a war zone. Constant machinegun and sniper fire is audible.... The military withdrew some tanks shortly before the monitors arrived, in what the activists called a ploy to persuade the monitors that the city was calm. Video on the Internet showed monitors confronted by residents imploring them to venture further into Baba Amr as gunfire crackled around them.
---