Arab League observers head to Syria's war-ravaged Homs
(Read article summary)
A day after reports of heavy fighting and dozens killed in Homs, Arab League observers are heading to the city as a part of an effort to end the fighting in Syria.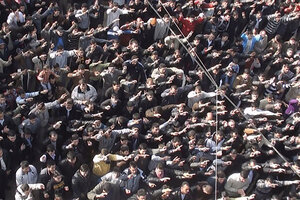 Reuters
• A daily summary of global reports on security issues.
A day after reports of dozens killed in the restive Syrian city of Homs, Arab League monitors are now headed there for the first time.
The monitors arrived in Syria on Monday as part of an Arab League deal to see if Syrian government forces are relenting in their crackdown on protesters, as promised. Since the uprising began in mid-March, the nation has remained virtually shut off from outsiders, with foreign press and international observers obtaining only the most limited access to the country.
The Arab League monitors are a step towards shining more light on the uprising, but it remains unclear if they will have any practical impact. The observers say the Syrian government has so far proved "very cooperative," but it is uncertain if they will get a complete picture of the violence.
"I am going to Homs. (Until) now, they have been very cooperative," Gen. Mohammed Ahmed Mustafa al-Dabi, the head of the Arab League monitoring mission, was quoted by Iran's Press TV as saying.
The mission, which will eventually number 200 observers, will be divided into groups of ten and sent around the country to verify that Syrian forces are complying with the agreement they made to stop violence, release detainees, and remove armed forces from urban areas, reports Xinhua. Gen. Dabi told reporters that his team has not faced any restrictions so far. In addition to Homs, the monitors are expected to visit Damascus, Hama, Idlib, and other cities.
Still, the BBC reports that while Syrian officials have appeared compliant, there are already allegations of a cover-up.
---