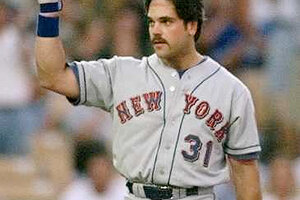 2.

Admiration for football players

In the latter part of his career, Piazza had an eye-opening experience while training alongside Ty Law, who at the time was a defensive back with the New England Patriots. Piazza had long done weight training, but he wanted to supplement it with what he calls a different kind of off-season regimen, focused more on building up his mobility and flexibility in anticipation of possibly switching from playing catcher to first base.

To accomplish that, he began to work out at the same track with a trainer who also ran Law through his paces. Piazza says he was blown away by the experience and earned a "profound appreciation" for the world-class athleticism of NFL players. Even though most baseball players can't match it, they do possess a special talent that sets them apart: the ability to hit major-league pitching.