'Long Shot': 8 observations shared in Mike Piazza's autobiography
The former all-star catcher of the Dodgers and Mets gathered a lot of insights during his 16-year, major-league career. Here's a sampling.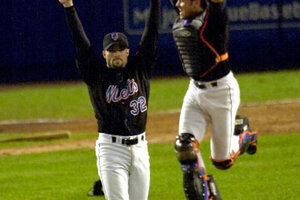 1.

Suggestion for the All-Star game

Piazza is less than enamored with the annual All-Star Game. In his opinion, the integrity of the game has gone downhill with increased efforts to commercialize it and to protect highly-paid pitchers. As he points out, so many pitchers are currently given cameos in the game that in 2002, the teams ran out of hurlers in extra innings, causing the game to be called a tie. Thereafter, in an effort to make the game more competitive, home-field advantage in the World Series has gone to whichever league wins the All-Star Game.

Piazza, however, calls that silly, since the outcome of one game in which players are elected and removed arbitrarily is not a true test of either league's true strength. His suggestion is to give the home field advantage to the league that compiles the best overall record in inter-league play for the season.