A self-published poet laureate? North Carolina pick draws controversy
North Carolina Governor Pat McCrory chose self-published poet Valerie Macon without approval from the North Carolina Arts Council.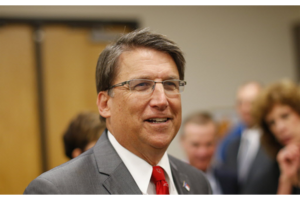 REUTERS/Chris Keane
When Governor Pat McCrory announced with a press release the appointment of the next poet laureate of North Carolina, there was instant consternation.
The position traditionally calls for submissions, applications, letters of recommendation, and a review by the North Carolina Arts Council, according to the Charlotte Observer. But McCrory skipped all those steps and appointed Valerie Macon, a virtual unknown, to the prestigious position.
The way the poet was chosen, as well as choice of the poet herself, has drawn criticism from poets and citizens of North Carolina alike.
The awarding of the position of poet laureate usually comes with a ceremony of some pomp and circumstance. McCrory opted to announce the position with only a press release, according to newsobserver.com.
The Governor's flaunting of tradition is only part of the controversy. Another part of the problem is that Macon hasn't written much.
The appointee's entire output thus far consists of only two self-published volumes of poetry, "Shelf Life" (2011) and "Sleeping Rough" (2014), according to The Cary News. The press release announcing Macon's appointment claimed that both volumes have been nominated for the Pushcart Prize, but the prize is not given to volumes of poetry, so they would have been ineligible to receive such a prize, according to Star News Online.
Dubious prize credentials aside, many critics are saying that Macon's output is just too small to qualify her for the prize.The previous appointee, Joseph Bathanti, has published eight collections of poetry, two novels, a book of short stories, and will soon release collection of personal essays, according to the Charlotte Observer.
"Valerie Macon is a beginner in her poetry career," Richard Krawiec, a poet and publisher from Durham, North Carolina said, according to newsobserver.com. "Laureate is for people with national and statewide reputations. If you don't honor that basic criteria of literary excellence and laureates being poets at the top of their game, than what's the purpose of the laureate position?"
Some objections may stem from the fact that Macon is self-published. The poet paid Old Mountain Press of Sylva, N.C. to publish her poetry instead of the other way around, according to Star News Online. With the rise of internet sales, an ever-increasing number of authors and poets are choosing to cut out traditional publishers and sell their work themselves, but there is still a significant amount of prestige of having one's work attached to a "real" publishing company.
The position of poet laureate will come with a $5,000-$15,000 stipend, and Macon will hold the position for two years.
A statement from the Arts Council says, "While past appointments included a selection committee, it is not required as part of the selection process," according to the blog Progressive Pulse. "It is the Governor's appointment and the prerogative of his office to select the state's Poet Laureate. The North Carolina Arts Council is looking forward to working with Ms. Macon in her term."
As for the poet laureate herself, according to newsobserver.com, she is trying to stay above the controversy surrounding her appointment.
"All I can say is I will definitely do my very best to promote poetry," Macon said. "I'll work hard to be the best poet laureate I possibly can for the citizens of North Carolina."
She added that she was "honored and humbled" by the appointment.
Weston Williams is a Monitor contributor.