February jobs report: 36,000 jobs lost, but mostly a holding pattern
The February jobs report showed the unemployment rate steady at 9.7 percent and 36,000 jobs lost. Hiring may get a boost in March.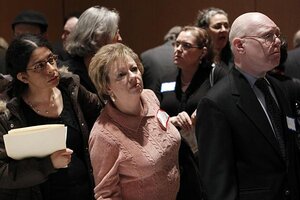 Shannon Stapleton/Reuters/File
The February jobs report shows American businesses have just about ended the firings, but they haven't yet started hiring.
The US economy last month shed 36,000 jobs, and the unemployment rate held steady at 9.7 percent, the same as in January, the Bureau of Labor Statistics (BLS) reported Friday.
But March may be looking up. Many economists foresee a gain in the number of jobs, in large part because the US Census Bureau is expected to begin hiring people to help with the 2010 census. It's less certain that private businesses are starting to add many workers to their payrolls; that is not likely to happen until summer.
The White House viewed the report in positive terms. Christina Romer, chair of the Council of Economic Advisers, called it "consistent with the pattern of stabilization and gradual labor market healing we have been seeing in recent months." She also took heart that the number of workers unemployed for more than six months fell by 180,000, the first decline in a year.
Snow storm impact minimal
February's job losses were fewer than many forecasters had expected, given the general slowdown caused by huge snowstorms in parts of the nation during the survey week. Although many workers may have not been able to get to their jobs, they were counted as having a job if they received any pay during the week of the survey.

"It looks like the weather had a very small impact," says Mark Zandi, chief economist at Moody's Economy.com. "The job losses were not as large as feared."

Still, the severe weather may have affected payroll employment and hours, the BLS said. But, it added, "It is not possible to quantify precisely the net impact of the winter storms on these measures."
The February jobs report shows an economy that is barely moving as winter gives way to spring.
"It's moving forward, but it has not yet moved into higher gear," says Joel Naroff of Naroff Economic Advisors in New Holland, Pa.
Mr. Zandi calls the economy "flat."
Because the job losses were fairly minor, some economists viewed the report as positive.
"Things that potentially could have gone wrong did not go wrong," says Mr. Naroff.

Men, minorities feel the pinch the most
However, the overall picture for jobs is not positive. Some 14.9 million people were unemployed last month, according to the BLS. The unemployment rate for adult men was 10 percent, compared with 8 percent for adult women. However, the jobs picture was especially bleak for minorities, with the jobless rate at 15.8 percent for blacks and 12.4 percent for Hispanics, versus 8.8 percent for whites. The worst job picture is for teenagers, whose unemployment rate is 25 percent.
Moreover, the number of long-term unemployed – those out of work for more than six months – was 6.1 million. Almost 40 percent of the unemployed are in this category.
Economists still expect the unemployment rate to rise this year. According to the BLS numbers, the workforce shrank by 0.5 percent compared with a year ago.
"The last time we had a decline of this consistency and magnitude was the Korean War," says Zandi.
As businesses start to hire, however, this trend will change.
Last month, some 2.5 million people were considered by the BLS to be "marginally attached" to the workforce – 476,000 more than in January. These are workers who have not looked for work for the past 12 months and are deemed to be no longer in the labor force. Many are too discouraged to hit the pavement or reply to job postings.

Construction sector in a pit
The jobs picture is especially bleak for the construction industry, which has lost 1.9 million jobs since December 2007. In February, employment dropped by 64,000, roughly the same amount the beleaguered industry has been shedding for each of the past six months. Most of the job losses were in commercial construction, which is contracting as large developers struggle to pay their loans.
One indicator that the industry won't turn around soon: Jobs for architectural services fell 0.2 percent in February and dropped 6.8 percent for engineering services. These job areas are indicators of future construction, according to the Associated General Contractors of America.
Some construction workers may have found jobs shoveling snow. Some contractors in the Washington, D.C., area went door-to-door offering to remove the snow from roofs. Temp jobs added 48,000 positions last month.
"If a business had to hire someone to shovel the sidewalks in front of their stores, they probably hired a company that hired a temp worker," says Naroff.
January had seen a hiring surge in the retail trades, partially the result of seasonal adjustments. (Because fewer people were hired in December, fewer were fired in January.) But retail hiring was flat in February, reflecting lackluster consumer spending.