Recession over? Not in these four cities.
America's longest postwar recession officially ended more than a year ago. But in some places, the recession still looks alive and well. Here are four cities that over the past year have seen the biggest drops in employment and at least a 1 percentage point rise in the unemployment rate, according to the US Department of Labor. Is your city on the list?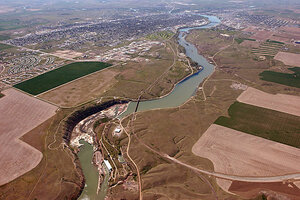 Montana Preservation Alliance / Courtesy of the National Trust for Historic Preservation
4.

Great Falls, Mont. – 3.3 percent workforce decline

Times are getting tougher for the city at the uppermost navigable point of the Missouri River. Unemployment has crept up in the past year from 4.7 percent to 5.8 percent. That's still low by national standards, but locally it reflects a worrisome drop in employment. Since September 2009, the Great Falls metropolitan area has lost 3.3 percent of its employed workers, the eighth largest percentage decline among metro areas in the United States.