Top 5 ways to save on a honeymoon destination
So you're about to tie the knot. Let me offer my congratulations! I do worry, though, about your bank account. Getting married is one of the costliest decisions of your life (financially, I mean). I remember the after-effects of our wedding on our finances … shock sums it up nicely. I don't mean the wedding, which itself can cost a small fortune (an average $18,000, says the website Wedding Report). I mean the honeymoon. As someone who has researched honeymoon destinations and watched others decide their post-nuptials in exciting and different ways, I've compiled money-saving hints to keep you from incurring too much debt. Here are my Top 5 money-saving tips for a honeymoon destination: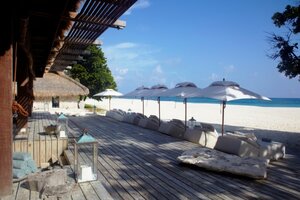 Simon Upton/Wilderness Safaris/AP/File
1.

Compare prices for your honeymoon destination

As you would to book a flight or buy a new car, go to the Internet to compare prices. Stick to the websites that afford you the ability to compare rates for traveling to your honeymoon destination. There are a myriad of them out there: Travelocity, Priceline, Orbitz. If you find a hotel room that's going to set you back hundreds of dollars per night, maybe you can find a just-as-nice alternative.