Top 10 cities where house prices are rising
House prices continue to fall nationwide, but here and there they've begun to turn up as Americans return to the housing market. Which 10 metropolitan areas have seen the biggest increase in the past year? The winners, according to the National Association of Realtors (NAR), include a state capital, a furniture-making center, and a resort that was once America's foreclosure capital. Can you guess who they are?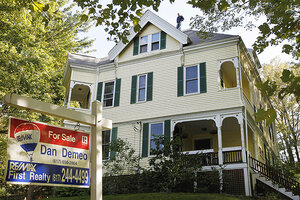 Steven Senne/AP/File
10.

Spartanburg, S.C.: house prices up 4.1 percent

Located in South Carolina's Upcountry region along the commerce-rich 8-85 corridor, metro Spartanburg is seeing house prices move up smartly. Between the fourth quarter of 2010 and the fourth quarter of 2011, median home prices rose from $94,000 to $119,000. And some analysts predict at least a slight increase in the local pace of sales as the year continues.

The local economy continues to struggle. Unemployment is above 9 percent. But a smart rise in the transportation and utilities sector as well as in manufacturing is helping to put the metro area back on track. The area is home to a BMW manufacturing facility that has recently expanded its operations to allow for the increased production of luxury sport utility vehicles.