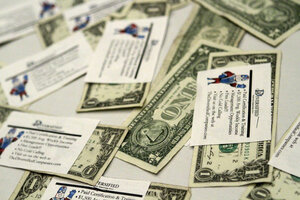 Mary Altaffer/AP/File
2.

Fewer families are saving

The Federal Reserve's Survey of Consumer Finances reports that in 2010, just 52 percent of families surveyed indicated that they had saved money in the previous year. This is down from 56 percent in 2007 (the previous release). That also means that nearly half of all households are either just breaking even, or spending more money than they make in a year. By any interpretation, this is not a good trend.

At the same time, the Fed reports that median household net worth has declined by over $49,000 in real terms from 2007 to 2010. Deflated investment values can probably be to blame for a large part of the decline, rather than a lack of regular saving. Nevertheless, decreasing net worth is one more sign that families are having trouble managing their financial assets.