H&M Super Bowl ad: Shop with your remote control
H&M's Super Bowl ad has an interactive function that will allow viewers to shop for clothing directly through their televisions. Is the interactive H&M ad the future of television advertising?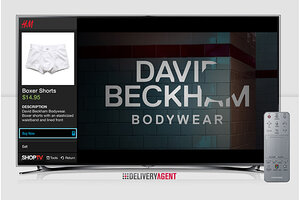 Courtesy of Delivery Agent
If you find yourself getting bored by the occasional football playing interspersed between commercials during the Super Bowl this year, H&M has a solution: Do a little shopping.
The clothing retailer will run the first-ever "shop-enabled" TV spot during Super Bowl XLVIII. The 30-second ad will feature former soccer star and current model David Beckham, and at the end of the ad, viewers with certain Samsung smart TVs will have the opportunity to buy products from Mr. Beckham's spring line of men's underwear.
The campaign, run by San Francisco-based advertising tech company Delivery Agent, will also include an online boutique that shoppers can access on demand, through their televisions. But the prospect of impulse buying during live television is the big news here.
"This is a game-changer for the advertising industry," Delivery Agent CEO Mike Fitzsimmons says in the press announcement. "We are collectively redefining the power and effectiveness of television advertising. Years ago, the world talked about the potential associated with buying Jennifer Aniston's sweater. H&M, in an industry first, will now realize that potential by making their Super Bowl ad actionable and directly measurable."
Here's how it works: During the run of the ad, a pop up screen appears featuring product information, the option to share with other devices like smart phones and laptops, and the option to buy. The interactivity still works when the ad is recorded and played back, and the premiere ad will remain functional until the Friday after the Super Bowl.
For advertisers, Mr. Fitzsimmons writes via e-mail, the H&M spot is key because, unlike previous TV ads, it acts as a direct missive that consumers can follow, rather than a mere suggestion. "A television ad can now extend beyond brand building and move consumers through the purchase funnel to a transaction," he says. "[This makes] the metrics more accurate and analytics more dynamic."
Other companies have experimented with interactivity in their Super Bowl ads in the past. Last year, in an ill-fated move, Coca-Cola tried to let viewers vote for the ending of its Super Bowl commercial, only to have the voting website crash near the end of the telecast. That businesses would try these stunts during the Super Bowl is no accident: Because of the growing prevalence of on-demand and streaming television, fewer viewers than ever are compelled to actually sit through commercials, and ad space during high-profile live events, like sports and award shows, is at a premium.
But Delivery Agent believes that the direct interactivity will help ads adapt to the changing TV landscape by creating commercials with the same on-demand features as non-ad programming. And the possibilities, Fitzsimmons says, are endless. The company is also exploring ad opportunities in "entertainment, beauty, health, wellness, travel and auto," he says. "There's clear consumer demand here."
Before that, Mr. Beckham, the soccer star, will need to sell some men's underwear, and we'll soon have a direct measure of just how well he did. That could be key to whether we see more commercials like H&M's.