US economy added 295,000 jobs in February. What winter?
(Read article summary)
The US economy added 295,000 jobs in February, ticking unemployment down to 5.5 percent, according to the Labor Department. Many expected a harsh winter to to have more of an effect on employment, but the jobless rate is now at its lowest level in seven years.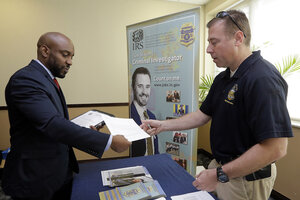 Alan Diaz/AP/File
Whatever effect piles of snow and even colder than usual temperatures were supposed to have on the economy, no one told the US labor market, which continued its torrid pace of growth in February. 
The US economy added 295,000 jobs last month, ticking the unemployment rate down from 5.7 percent to 5.5 percent, according to data released Friday by the Labor Department. The report blasted past consensus expectations of about 235,000 added jobs. Some analysts were expecting an even lower number, as winter weather storms brought many major US cities to complete standstills last month (or, in Boston's case, multiple complete standstills). 
At 5.5 percent, unemployment is now at its lowest level in seven years. A wide range of industries, including food services, professional and business services, construction, health care, and transportation, added workers. 
"It was better than we expected," says IHS Global Insight economist Chris Christopher, in a phone interview. "We thought there would have been more of a weather effect and we aren't, seeing it. We saw it in vehicle sales, but we aren't [seeing it] on the employment side."
Small businesses in particular didn't feel it as much as many feared, Mr. Christopher says, at least in the early reports. The food services sector, which includes restaurants and bars, added 59,000 jobs in February, more than the 35,000 per month average over the past 12 months. As far as a weather impact, last year, when a polar vortex plunged much of the country into arctic temperatures, was much worse. "Last year actually threw GDP down," he points out. "Not this year."
February's report continued what has been a near-uninterrupted growth spurt for the job market over the past year. The US has added 3.3 million jobs in the past 12 months – its best stretch since 2000. Additionally, many of the factors underlying the labor market are starting to pick up. The number of long-term unemployed, or those who have been out of work 27 weeks or more, remained unchanged last month at 2.7 million, but such workers have dropped by 1.1 million over the past year. 
Wages rose a paltry 0.1 percent which, on a monthly basis, is nothing to cheer. But longer-term trends on the wage front are more encouraging. Average hourly earnings were stuck through the jobs recovery's early years, but they have finally started to move, rising 2 percent over the past 12 months. Economists expect a rising demand for workers, plus reforms on the corporate side, to continue the trend. Also in February, Wal-Mart, the country's largest private employer, announced that it will raise its minimum pay to $10 per hour over the next two years, and its competitors have started to follow suit.
Some of the job market's dark spots remain. Labor force participation, or the percentage of American workforce that is either employed or actively looking for work, fell slightly in February to 62.8 percent. "While there have been small moves on a monthly basis, the bigger picture is that the participation rate has been little changed for months and is still hovering around lows not seen since 1978," MFR Inc. economist Joshua Shapiro writes in an e-mailed analysis. Some of that is due to the large number of Baby Boomers entering their retirement years, but "the participations of the youngest workers declined, which was more of a barometer of limited job prospects than of anything demographic in nature," he writes.  
Still, he notes, improved job prospects, and a shortage of workers in several industries, should encourage those workers to enter the market in the coming months.