Felipe Calderon blames candidate's killing on drug cartels
Felipe Calderon said drug cartels are to blame for the assassination of a gubernatorial candidate.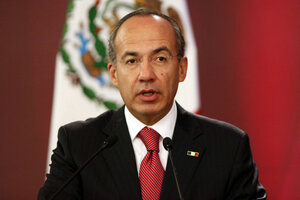 Eduardo Verdugo/AP
Mexican President Felipe Calderon is blaming drug cartels for the assassination of a front-running gubernatorial candidate.
He warns drug gangs are trying to infiltrate the election process.
Calderon said the assassination Monday of Rodolfo Torre in northern Mexico shows "organized crime is a permanent threat" and called on Mexicans to "close ranks to confront it."
He said organized crime "is trying to interfere in the decisions of citizens and in election processes."
Torre was running for governor in the border state of Tamaulipas.