10 great Siri tricks that iPhone owners probably don't know
Apple first introduced Siri in October 2011, inspiring widespread excitement over what the virtual assistant was capable of. Still in her beta stage, she's full of surprises – and rumored to be gearing up for an upgrade with the next iPhone. In the meantime, we've compiled a list of Siri's 10 most useful, entertaining, and underused tricks.
Think we missed one? Drop us a line in the comments section below.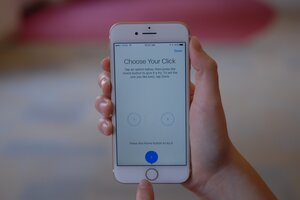 Owen Mortner/The Christian Science Monitor
1.

Adjust your home button

Note: This only works with iPhone 7.

The iPhone 7 doesn't have the same pressable home button as its predecessors. Instead, it operates on haptic technology, which responds even when it feels light pressure. You're not alone if you find that there's a learning curve for using the new home button.

Fortunately, you can adjust the sensors in the home button to find what is most instinctive to your finger. Apple offers three different levels of sensitivity that you can choose from in Settings. Simply go to Settings > General > Home Button. Apple will walk you through the steps to "choose your click."