'Frozen' is getting a sequel – a short one, anyway
(Read article summary)
A new short film set in the world of 'Frozen' titled 'Frozen Fever' will reportedly debut in the spring of 2015. 'Frozen' became the highest-grossing animated film of all time after being released in 2013.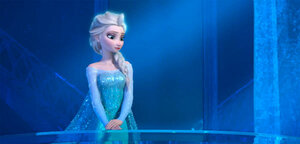 Disney/AP
Disney's returning to the land of "Frozen." 
According to Variety, the studio is producing a new short film tiled "Frozen Fever" that takes place in the world of the hit 2013 animated film. In the new clip, Anna (Kristen Bell), younger sister of the Queen of Arendelle, Elsa (Idina Menzel), is having a birthday, and Elsa and ice salesman Kristoff (Jonathan Groff), Anna's love interest, team up to try to give her a great party. However, Elsa's winter-related powers may spell trouble. A new song by Robert Lopez and Kristen Anderson-Lopez, who wrote the music and lyrics for the vocal songs for the film, will be included. The team won an Oscar for Best Original Song for the track "Let It Go." 
"Fever" will be released in the spring of 2015, and Entertainment Weekly writer Anthony Breznican speculated that the short will debut in front of the 2015 version of "Cinderella," which is directed by Kenneth Branagh and stars Lily James and Cate Blanchett. That's coming to theaters on March 13.
"Fever" won't be the last time "Frozen" fans see their favorite characters – Elsa, Anna, and Kristoff are set to enter the land of Storybrooke on the ABC show "Once Upon a Time" this fall. Actress Elizabeth Lail is set to appear on the live-action show as Anna, while Scott Michael Foster of the ABC Family show "Greek" will play Kristoff, and "Reckless" actress Georgina Haig will portray Elsa. In addition, "Lord of the Rings" actor John Rhys-Davies will play the troll king Pabbie and Tyler Jacob Moore of "Shameless" will play Anna's former suitor Hans.
"Frozen" was released in 2013 and centers on two princesses – Elsa, who is the heir to the kingdom of Arendelle but feels she must hide her powers over ice and snow, and Anna, who just wants to be close to her older sister. When the citizens of Arendelle learn of Elsa's abilities, she flees and Anna is determined to bring her back home.
The film is currently the highest-grossing animated movie of all time. In addition to winning the Best Original Song Oscar, it won the Best Animated Feature Academy Award.