After a big opening weekend for 'Spectre,' where does the Bond series go from here?
(Read article summary)
'Spectre' came in number one at the box office this past weekend but didn't top the opening weekend of 2012's 'Skyfall' and reviews for 'Spectre' are mixed. What will happen to the movie series now?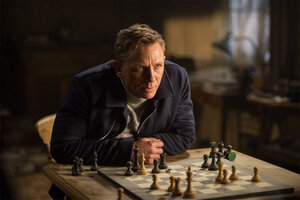 Susie Allnut/Metro-Goldwyn-Mayer Pictures/Columbia Pictures/EON Productions/AP
James Bond is back.
The newest movie featuring the British superspy, titled "Spectre," opened on Nov. 6 and immediately became a box office hit, scoring the second-best domestic opening weekend for the franchise. 2012's "Skyfall," the last appearance by the spy in cinemas, still has the best, but "Spectre" easily came in first at the weekend box office with its domestic gross of more than $70 million. 
Its studio was no doubt hoping the "Spectre" opening would beat "Skyfall." These are still good numbers, however.
The newest film features the return of actor Daniel Craig as Bond, Craig's fourth outing as the spy, and co-stars Ralph Fiennes, Ben Whishaw, Naomie Harris, Christoph Waltz, and Dave Bautista. 
"Spectre" is the twenty-fourth official Bond film, a staggering number even compared to other long-running franchises. "Skyfall" became the highest-grossing Bond movie of all time, so it's clear the series isn't going anywhere.
But how does it compare to other current Hollywood franchises? Hollywood is interested right now in reboots, in which a story that's already been filmed is brought back to its beginnings or reimagined in some way, or "universe-building." This model can involve sequels but also involves separate movies that focus on different characters – look no further than the Marvel movies, which center on various superheroes, or the "Star Wars" films, which will include separate stories about, for example, smuggler Han Solo. 
Bond has previously embraced the reboot. The 2006 film "Casino Royale" was an early example of this idea, with the film showing the spy at the start of his career as 007. The film and the decision of those behind it to bring James Bond back to his roots was critically praised.
"Spectre" did well at the box office, but the film got tepid reviews from critics. So is it time to reinvent the Bond franchise again, a move that is far from unusual in a Hollywood where Spider-Man was recently cast for the third time? 
Thomas Schatz, media professor at the University of Texas at Austin, notes that the "reboot" method, as seen in the "Terminator" and "Batman" film series, has already been done by those behind Bond. Another popular move is to do a dark take on the story – again, see the "Batman" movies – but these movies are already more serious than their predecessors.
"They've done the reboot, they've done the origin myth, and it's pretty grim," he says.
Some of the more recent Bond films have had more connecting threads than previous movies in the series. Villains like Blofeld and Jaws would pop up again in early installments, but for the most part, stories were stand-alone. With 2008's "Quantum of Solace," however, the plot was directly set in motion by the events of 2006's "Casino Royale," during which Bond's love interest Vesper Lynd (Eva Green) was killed.
Mr. Schatz suggests that perhaps future Bond movies will have more of an episodic feel or embrace a lighter tone. 
"They may go back to the playful one-offs, and that may work just fine," he says. 
It's certainly a question as to where the movie series will go from here. But one thing's for certain: never count Bond out.
"There's no other franchise like it, clearly," Schatz says. "Not even 'Star Wars.'" The Bond movies are a "transcendent franchise... something that seems to operate above the fray," he says.