Mary Lynn Rajskub will return for 12-episode run of '24'
Mary Lynn Rajskub, who starred on the original '24' series, will appear with '24' star Kiefer Sutherland for the new 12-episode series '24: Live Another Day.' Mary Lynn Rajskub played Jack Bauer's counter-terrorist sidekick Chloe.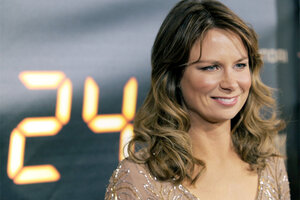 Chris Pizzello/Invision/AP
Fan favorite Mary Lynn Rajskub is teaming again with Kiefer Sutherland for a 12-episode run of "24: Live Another Day" to debut next May on Fox.
The network said Thursday at the Television Critics Association meeting that Rajskub will reprise her role as Chloe O'Brien, the faithful counter-terrorist sidekick of Sutherland's Jack Bauer character.
Rajskub joined the original "24" series in its second season and appeared in the second-most episodes of any actor during the show's run from 2001 to 2010.
Fox entertainment chairman Kevin Reilly says he's stopped by fans all the time thanking him for bringing back the Emmy-winning show.
Fox says the miniseries will take up Bauer's story several years after the events of the final season, with viewers following his foreign exploits in real-time.