The Juan Williams treatment: five other ousted media personalities
As NPR's Juan Williams learned when he was fired Thursday for comments that were taken to be anti-Muslim, the axe is swift to fall when media personalities speak out on controversial topics. Here is his story and those of five others recently ousted for voicing unpopular views.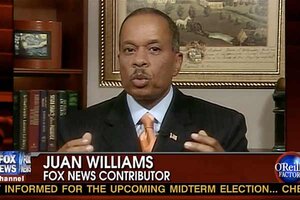 Fox News screengrab
Juan Williams

Longtime NPR news analyst Juan Williams was fired from the radio network Thursday for comments he made Monday on the Fox News television program "The O'Reilly Factor."

Bill O'Reilly, the show's host, had assembled a panel of guests to discuss issues aroused by his recent appearance on ABC's "The View." Mr. O'Reilly, upset at the brouhaha that erupted on the daytime talk show when he said "Muslims killed us on 9/11," asked Mr. Williams where his comments had gone wrong.

Williams, responding, said too much political correctness can get in the way of reality. "When I get on a plane ... if I see people who are in Muslim garb and I think, you know, they're identifying themselves first and foremost as Muslims, I get worried, I get nervous."

NPR issued a statement Wednesday that said Williams's comments "were inconsistent with our editorial standards and practices, and undermined his credibility as a news analyst with NPR."

Critics of the decision say Williams's firing sends the wrong message to journalists and the public trying to expand national debate on sensitive subjects.