Groundhog Day 2012: 5 things you need to know about Punxsutwney Phil
Every Groundhog Day, Punxsutawney Phil makes the most celebrated weather forecast of the year, usually around the crack of dawn. But does he get it right? And who are those dapper guys in top hats? Here are answers to five famous Phil mysteries.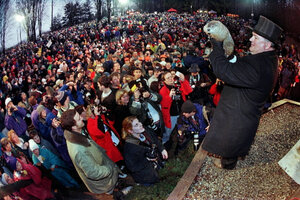 AP Photo/Gene J. Puskar
1.

Does Phil get it right?

Can we really trust a large rodent to predict the weather? The Punxatawney Groundhog Club says Phil has seen his shadow 99 times, has not seen it 16 times, and 9 years are unaccounted for since 1887.

According to the StormFax Weather Almanac, records kept since the modern tradition began suggest Phil has predicted the right forecast only about 39 percent of the time – despite what would seem to be pretty solid 50-50 odds.

According to the Punxsutawney Groundhog Club, however, Phil has never been wrong.