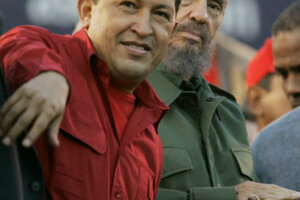 Roberto Candia/AP/File
2.

Dogs of the empire

In February 2006, Defense Secretary Donald Rumsfeld compared Chávez to Adolf Hitler, which did not sit well with the Venezuelan president.

Chávez played off the comment during a speech in Cuba where he was accepting the José Martí Prize – a Cuba-initiated UNESCO prize that recognizes an individual or organization that has contributed to Latin American unity.

"Let the dogs of the empire bark, that's their job," he said. "Ours is to battle to achieve the true liberation of our people."

Chávez said that the United States was weakening because of Latin America's left-leaning governments.

"They are right to be worried, because they know what's happening here," he said during his three-hour speech. "They will forever try to preserve the US empire by all means, while we will do everything possible to shred it."