In Boston, pushback on controversial ICE tactic separating families
A federal court is examining the legality of ICE's practice of detaining unauthorized immigrants with US spouses at their green-card hearings. Thomas Brophy, acting director for New England, testified last week that ICE agents in the seven-state region would stop the practice.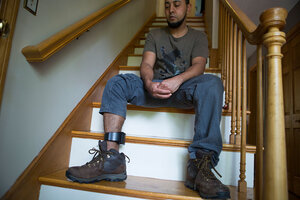 Melanie Stetson Freeman/Staff
When the notice arrived in the mail, Juliana Junqueira was wary. A year after they applied, she and her husband, Eduardo, had an appointment with an immigration officer. It was a chance to prove that their 2005 marriage was legitimate and to put Eduardo Junqueira, an unauthorized Brazilian national, on a path to legal residency. 
Ms. Junqueira called her attorney in New York. Should they go to the interview? Was it risky for Eduardo, who had twice crossed illegally into the United States?
The attorney advised them not to worry. So they showed up at the federal building in Hartford, Conn., with all their paperwork: marriage certificate; photos of their two US-born children, ages 9 and 10; a decade of tax receipts. An hour later, an official called Eduardo's name. The couple stood up. No, Juliana was told, not you. We only want to talk to him.
"Then I knew it. I knew something was wrong," she says.
Ten minutes later, she was informed that Eduardo was in the custody of the Immigration and Customs Enforcement, or ICE. It would be another three months before she would see him again.
Juliana was furious with her attorney. "She handed him to ICE on a silver platter," she says.
The tactic is one way the Trump administration is delivering on its promise to deport as many unauthorized immigrants as possible, immigration lawyers say. Immigrants married to US citizens who petition for them to stay present an easy target since they have declared themselves to US immigration services.
Self-reporting immigrants make tempting targets for enforcement, says Stephen Yale-Loehr, a professor of immigration law practice at Cornell Law School in Ithaca, NY. "If you want to increase your numbers quickly, arresting people who turn up at [immigration services] are low hanging fruit. You know what time they're going to be there," he says.
Now that practice faces judicial pushback in federal court in Boston. Eduardo was freed on May 8 after ICE was found to have violated his rights while in custody. This ruling led to a broader inquiry into ICE's tactics by US District Judge Mark Wolf, who questioned why it was necessary to separate families who were seeking legal status for unauthorized members.
Last week, ICE officials testified that the practice of sending agents to immigration interviews had begun after President Trump set new priorities for detentions. Thomas Brophy, the acting director for New England, told the court that the practice had been stopped and ICE agents in the six-state region would only detain unauthorized immigrants seeking legal status who posed a threat to national security or public safety.
Judge Wolf, a Reagan appointee, is due to hold further hearings next week. He has yet to rule on broader allegations that ICE violated the constitutional and statutory rights of immigrants. Whatever he rules would likely only apply in Massachusetts, which is already stony ground for immigration raids.
Immigration lawyers worry that self-restraint may not hold without judicial checks.
"I think the statements [by ICE officials] were designed to contain the damage that's already been done," says Jeffrey Rubin, an attorney in Boston. His firm, Rubin Pomerleau, now represents Eduardo Junqueira as well as two other former ICE detainees in similar circumstances.
Class-action lawsuit
In April, the American Civil Liberties Union filed a class-action lawsuit in Massachusetts against the Department of Homeland Security over the separation of US citizens from their spouses and children. It noted that US Citizenship and Immigration Services (USCIS) issued a 2016 regulation that permits unauthorized applicants to remain with their families while green-card cases are heard, and alleges that ICE violated these legal protections.
Matthew Segal, legal director of the ACLU of Massachusetts, says a legal process had been turned into a trap that ensnared families, a trap that echoes the separation of parents and children seeking asylum at the Mexican border. "The government's strategy seems to be to dissuade people from seeking immigration benefits to which they're entitled," he says.
In both circumstances, parents are taken away from their children by design, he says. "That is not a byproduct of the strategy. The family separation is the strategy."
One ACLU plaintiff, Lucimar de Souza, a mother of three in Everett, Mass., was detained by ICE around the same time as Eduardo. Wolf ordered her release on May 8. Last week, Wolf had a video played in court of Ms. de Souza's emotional reunion with her son.
Wolf asked Mr. Brophy, the ICE director, how many children he had. "Three," he replied.
"Did you think what it would be like to face the threat of deportation and stay separated from your children for five or six weeks while you await a hearing?" Wolf asked rhetorically.
A spokesman for ICE declined to comment on its practices in New England, citing the ongoing litigation. Federal ICE officials have repeatedly said that no classes of "removal aliens" were exempt from enforcement of deportation orders.
A spokesperson for USCIS says its officers notify law enforcement agencies when they come into contact with immigrants who have criminal or civil warrants, and the same applies to deportation orders. "The originating law enforcement agency has the discretion to decide whether they intend to apprehend the individual or not," the spokesperson wrote in an email.
For lawyers advising clients on whether to seek green cards for unauthorized spouses, these arrests present a dilemma, says Heather Prendergast, an immigration attorney in Cleveland, Ohio. "That risk has always been out there, but it was really remote. Three years ago I would have told a client, yes, technically you are out of [legal] status, so it could happen."
Still, she argues on balance it's better to petition for legal rights than wait to be caught, which could happen at a routine traffic stop.
Ms. Prendergast, who chairs the American Immigration Lawyers Association's liaison committee with ICE, says there's no public record of how many self-reporting immigrants have been detained or how widespread the practice is.
She says it may be a particular tactic in jurisdictions such as California and Massachusetts, where ICE agents get limited cooperation from law enforcement agencies. Last year, the Massachusetts Supreme Court ruled that ICE detainers – requests to turn over arrested individuals for deportation – were unconstitutional.
'We were so surprised ... it could happen here'
Living in a blue state lulled Karah de Oliveira into thinking that applying for a green card for her husband, Fabiano, was a no-brainer. She is a Massachusetts native; they have been together for eight years; they have a son, age 5. He has no criminal record. So they filed in 2016. They went for an immigration interview in January, and ICE was waiting.
"We were so surprised that it could happen here. It's a liberal state," says Ms. de Oliveira, who works for a software company. 
Fabiano was handcuffed and told he had ignored a final deportation order, which he says he never received. "All I could think of was my son and my wife," he says. If deported to Brazil, he would be barred from returning for 15 years.
The Obama administration created a waiver for unauthorized green-card applicants with US spouses to prevent family separation. For successful applicants, deportation orders could be lifted by a judge.
Like other workarounds, it was predicated on Congress eventually enacting immigration reform. But like the Deferred Action for Childhood Arrivals program, it was not by itself a fix. "It shows how broken our immigration system is," says Mr. Yale-Loehr, who has practiced immigration law for 35 years. "This is the worst time in my career that I've seen for immigrants." 
Fabiano spent a month in ICE custody in a state prison. He met other immigrants, including those arrested in similar circumstances. Some chose deportation, unable to see a way out. Fabiano's lawyers got him released, subject to ICE supervision, including an ankle monitor. The immigration officer certified their marriage before he was detained, which entitles him to a work permit. (He's a house painter.)
Still, the threat of deportation hangs over him. He puts his odds of staying at 50/50.
"No, it's higher than that," insists de Oliveira, ever the American optimist. There's no reason to deny him, she says. "He's got a family here."