Top 10 senators seeking earmarks
Senate leaders decided to scrap a 1,900-page omnibus spending bill that contained $8 billion in home state spending projects – otherwise known as earmarks, pet projects, or "pork." Government spending and the deficit became an issue in the midterm election, and lawmakers are keenly aware of voter anger about large, catch-all bills that are quickly passed. The following senators have been ranked by the monetary value of earmarks they backed, whether alone or with others, in the now-scuttled omnibus spending bill.
The earmark process became more transparent with the 2006 Federal Funding Accountability and Transparency Act, which required creation of a database of all government spending. The watchdog group Taxpayers for Common Sense used the database to compile this ranking. Sen. Tom Coburn (R) of Oklahoma, who co-sponsored the legislation, also has a list of the disclosed earmarks in the omnibus bill on his website.
*This is the amount requested both alone and with other members of Congress.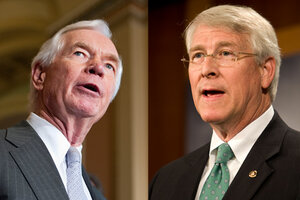 1 & 2. Thad Cochran (R) & Roger Wicker (R), of Mississippi

Number of Cochran earmarks: 281

Amount requested*: $561.1 million

Number of Wicker earmarks: 236

Amount requested*: $449.3 million

Senators Cochran and Wicker, the top earmarkers in the omnibus bill, asked for more than $30 million in watershed improvements for the Yazoo Basin in northwestern Mississippi; more than $20 million of that was for the Mississippi Delta Headwaters Project. They were also looking for a pair of $5.5 million grants for NOAA research projects at the University of Mississippi and Mississippi State University.