Senate freshmen: What the 14 new members bring to Capitol Hill
A freshman Senate class was sworn in Jan. 3, bringing diverse skills and experience – not to mention agendas – to the legislative body. Whether the 14 newest senators help break partisan gridlock, or refuse to work across the aisle, will be the test for the 113th Congress.
Twelve were elected on Nov. 6, including three Republicans, eight Democrats, and an independent. In addition, a Republican and a Democrat were appointed to vacant seats after the election. Here is a look at the 14 and what they bring to the Senate: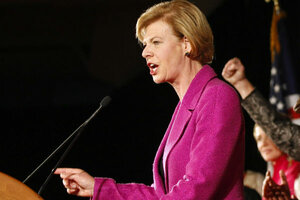 Andy Manis/AP/File
Tammy Baldwin (D) of Wisconsin

Sen. Tammy Baldwin, a progressive Democrat, made history on election night, becoming the first openly gay person and first Wisconsin woman elected to the Senate. But in her election night acceptance speech, she was quick to downplay those firsts.

"I'm well aware that I will have the honor to be the first woman senator from Wisconsin. And I'm well aware that I will be the first openly gay member of the United States Senate," Ms. Baldwin said. "I didn't run to make history – I ran to make a difference."

To Baldwin, that includes securing funding for education, retirement security for seniors, resources for veterans, and support for small businesses, issues she carries over from her 14-year tenure in the House.

Elected in 1998, Baldwin's voting record has consistently been ranked as one of the most liberal, according to the National Journal. She opposed the war in Iraq, cosponsored a bill to impeach then-Vice President Dick Cheney, and heavily criticized Rep. Paul Ryan's budget blueprint. Another top issue for Baldwin is access to healthcare: She championed a section in Obama's health-care reform law that allowed young people to stay on their parent's insurance until age 26.

Wisconsin voters have alternated between electing Republicans and Democrats, so the race to replace retiring Democratic Sen. Herb Kohl was up for grabs. Baldwin defeated four-term Gov. Tommy Thompson by 5.6 percentage points, downplaying her liberal record but focusing her attacks on Mr. Thompson's proposal to abolish Medicaid and Medicare.

She raised $14 million during the campaign with top contributions from EMILY's List, Moveon.org, and the League of Conservation Voters. Some $65 million was spent by both candidates and by outside groups, in a vigorous attempt by Republicans to regain the seat.

Before her election to the House, Baldwin served in the Wisconsin Assembly for six years and on her local County Board of Supervisors six years.

She is slated to serve on four committees in the new session: Health, Education, Labor, and Pensions (HELP), Aging, Homeland Security and Government Affairs (HSGAC), and Budget.