John Kasich lands major Southern endorsement: Why that matters
Ohio Gov. John Kasich has landed the support of an important political figure from the South, bolstering his bid for the Republican presidential nomination.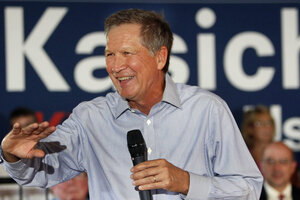 Jim Cole/AP
[Updated: This story was updated at 3:45 p.m.]
Ohio governor and Republican presidential hopeful John Kasich has a new backer from the South. 
Alabama Gov. Robert J. Bentley (R) officially threw his support behind Governor Kasich at a campaign event Monday at the Alabama Sports Hall of Fame in downtown Birmingham. The endorsement from a Southern conservative such as Governor Bentley could help propel Kasich and his unique message – until now focused on making a mark in New Hampshire, the first primary state – to a broader Republican bloc.
"We need someone who believes in the promise of our great country," Bentley said during the event, according to AL.com. "Someone who believes our country can be better and stronger and safer not only for those of us who maybe have a little bit more but those of us who in this country who need to be taken care of.... We need a leader who cares about the people."
Kasich, Bentley added, is such a leader. 
Kasich is among the last Republicans to enter the race, having thrown his hat in the ring just about a month ago. But while he doesn't have Donald Trump's showmanship or Jeb Bush's name recall, his run so far has been notable: In eight weeks of fundraising, Kasich's super PAC, New Day for America, raised about $14 million.
He also snagged Tom Rath, "one of the biggest Republican strategists in the state," as senior advisor to his campaign, and was running third behind Mr. Trump and Mr. Bush in an August poll of likely New Hampshire primary voters, The Christian Science Monitor noted.
The Ohio governor also landed the final spot at the first GOP debate on Aug. 7, where he stood by his unorthodox (for a Republican) positions on Medicaid and same-sex marriage.
"There's a generosity of his spirit and his approach," Mr. Rath said of Kasich, according to The Concord Monitor. "He's funny. He's quick. He's very, very decent. And he's been very nice to me."
Not that Kasich doesn't have critics, many of whom compare him to Jon Huntsman, the former Utah governor who entered the 2012 race as a promising alternative to Mitt Romney only to drop out after the New Hampshire primary. As Politico reports:
His sudden popularity, they say, is simply the result of his super PAC's well-timed $1.5 million ad campaign. Few other contenders have been on the air so far in the expensive Boston media market that covers most of New Hampshire. And ... Kasich still doesn't sit well with some conservatives for his decision to embrace Obamacare's expansion of Medicaid – and his defense of it, largely premised on his religious faith, has angered Republicans who have rejected all facets of the president's health law.
Still, Bentley's endorsement of Kasich comes despite differences in their approach to the Affordable Care Act, the Wall Street Journal notes. The Alabama governor's support would also be a blow to the other governors in the race, "especially Louisiana Gov. Bobby Jindal, a fellow Southerner, and former Florida governor Jeb Bush, who led a neighboring state," according to the Washington Post.
Kasich's people are touting Bentley's backing as significant for two reasons: a northerner, who some consider not conservative enough, is plucking a Southern endorsement from the plethora of Southern candidates expected to do well there next year, and Bentley is only the fourth sitting Republican governor to offer a 2016 presidential endorsement so far.
Following the event in Alabama, Kasich stopped by South Carolina to file to be on the state's ballot for the Republican primary on Feb. 20, the first of the contests in the South. 
This report contains material from the Associated Press.