Kentucky Derby 2011: Five fantastic finishes of the past
It will take the winning horse just two minutes to run the 1-1/4 mile track during the Kentucky Derby 2011. Here are five of the most exciting Kentucky Derby finishes from the past 137 years. With 19 horses raring to go, some photo finishes are inevitable.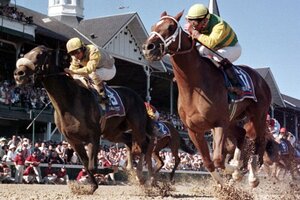 Michelle Wilkins/AFP/Newscom
1.

The underdog wins by a neck (1999)

Charismatic was a 30-to-1 shot, but he brought home $886,200 when he defeated Menifee by a neck. After winning at the Preakness Stakes, he had to win just one more race to win the Triple Crown, a feat no horse had accomplished in 21 years. No longer an underdog, Charismatic went into Belmont Stakes a 2-to-1 favorite, only to come in third.