Bob Adelman brought tensions of civil rights movement into US living rooms
Photographer Bob Adelman's work depicted the magnitude of segregation in the Deep South during the civil rights movement.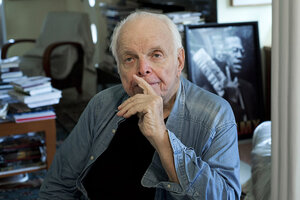 J Pat Carter/AP/File
For many white Americans nestled into cozy suburbs of the 1960s, the civil rights movement was something of foreign concept, a far-off conflict waged in distant communities. Freelance photographer Bob Adelman brought those tensions directly into US living rooms with his dispatches from the Deep South. 
The mission to bring the images of the black American struggle into white communities was personal for Mr. Adelman. Born in 1931 and raised in a Jewish community in Queens, N.Y., Adelman could not recall meeting a single black person until he was a teenager, he told Associated Press in a 2014 interview.
When boycotts and mass marches began in the Deep South, he didn't understand why the growing movement wasn't getting America's full attention.
"When the movement started, I was very, very moved by the first people sitting at lunch counters. It wasn't a front-page story, the whole nation wasn't riveted by it," Adelman told AP.
As a volunteer for the Congress of Racial Equality, the Student Nonviolent Coordinating Committee, and other civil rights organizations, Adelman was able to gain access to some of the most prominent civil rights leaders of the time, including the Reverend Martin Luther King Jr. Some of his most famous shots were close-ups of Dr. King, including now-iconic shots of King delivering this "I Have a Dream" speech at the Lincoln Memorial and marching from Selma to Montgomery, Ala., alongside his wife.
Adelman took a particular interest in depicting the magnitude of segregation, with sweeping shots of large groups of descendants of slaves marching together across landscapes marked by signs telling them where they did and did not belong.
"I thought this using your body to try to change things, whether you tried to vote or went to the bathroom or you were trying to go into a movie theater or whatever — that was inescapable and it was I guess very, very provocative and confrontational," Adelman told AP.
As photographer, he also covered several other social and political issues including the war on poverty, the women's movement, the gay rights movement, and public health issues.
He also covered pop art including the works of popular artists such as, Andy Warhol, Jeff Koons, and Roy Lichtenstein. He published more than a dozen books, including one of work by Jacques Lowe, President John F. Kennedy's personal photographer, whose negatives were lost in the collapse of the World Trade Center on Sept. 11, 2001.
Adelman died at his home on Miami Beach Saturday afternoon. His legacy lives on through his historic photographs.
This report contains material from the Associated Press.