NFL 2012: a banner year for rookie quarterbacks
As NFL's 2012 season gets into full swing with Sunday's games, a record five rookies prepare to take the field as starting quarterbacks. The old record was three in 1960. Not only will all four first-rounders in last spring's draft – Andrew Luck, Robert Griffin III, Ryan Tannehill, and Brandon Weeden – be starters, but so too will Russell Wilson, Seattle's third-round pick. In addition, the other six QBs taken in the draft, including the last player picked, all landed NFL jobs, as did three undrafted free agent signal callers. Here's a rundown on these players, in the order of their selection: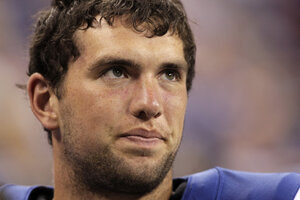 AJ Mast/AP
1.

Andrew Luck, Indianapolis Colts

Drafted: #1 overall (in first round)

Pro status: starter

College team: Stanford

6 ft. 4 in., 234 lbs.

Hometown: Houston

QB rating in preseason: 89.3

All the teeth-gnashing over Peyton Manning's departure is receding in Indianapolis as Andrew Luck shows himself worthy of being the league's No. 1 overall draft pick. His first pass for the Colts went for a touchdown, always a good sign. NFL.com has called him "the most NFL-ready rookie quarterback" since Manning entered the league in 1998. During the preseason he has shown himself to be a very fast learner, just the player to lead the team during a major rebuilding period under both a new coach (Chuck Pagano) and new general manager (Ryan Grigson). Sports Illustrated has picked the Colts to win five games after struggling to a 2-14 campaign in 2011, when Indianapolis missed the playoffs for the first time in 10 years. Luck, the son of former NFL quarterback Oliver Luck, was projected as a possible No. 1 pick after his junior year at Stanford, but he stuck around for a fourth year of college eligibility. In 2010 and 2011 he was both the Pac-12 Offensive Player of the Year and also the Heisman runner-up.