With few choices, the poor take risk in volcano's path
Lowering risks requires understanding their root causes. Guatemala's deadly volcanic eruption has highlighted a problem seen around the world: that poor communities often live where it's cheapest, despite the dangers.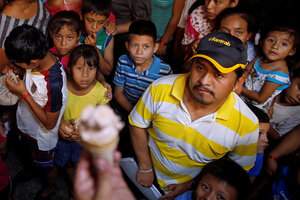 Carlos Jasso/Reuters
Amanda Santizo sits on the edge of a foam mattress where her elderly mother is sleeping on Tuesday afternoon.
She says her mother is trying her best to accept the family's new reality, following the eruption of the volcano Fuego on Sunday. They lost their home, livestock, and way of life.
"We had to leave everything behind when the Army evacuated the village," Ms. Santizo says inside the crowded, noisy refuge in a Catholic church in the city of Escuintla, about nine miles from their village. 
The volcano's sudden eruption left an estimated 109 people dead and another 200 or more are still missing. The death toll is likely to keep rising, authorities say.
The day after the eruption, as communities at the foot of Fuego searched and hoped for signs of life, President Jimmy Morales held a press conference in an affected town. 
"We would like to take this opportunity to ask people living in high risk areas to help us to prevent these situations," he said. "There are many homes located close to rivers, close to ravines, on mountain slopes. We need everyone to cooperate." 
To many, his words implied that the victims of the disaster were to blame for their fate. But that assumes a level of choice in housing and living environment that experts say rarely exists. Access to land in Guatemala has long been fraught: It was at the root of the 36-year civil war, and more recently, with the introduction of monoculture farming, land has become even more scarce.
The poor are frequently hardest hit by disasters around the world, often owing to factors as simple as the availability of quality housing, access to credit, and access to land. Tackling basic challenges like affordable housing, particularly within a few hours of urban areas where jobs are most prevalent, can have crucial effects on who suffers in a disaster, experts say.
"Poor people trade livability for economic opportunity," says Sameh Wahba, the global director for urban and territorial development, disaster risk management, and resilience at the World Bank. "Housing and land markets are dysfunctional. And [the poor] are unable to find affordable housing and land" within a reasonable commute to large job markets, like cities.
Santizo says her parents moved to their village when she was eight years old. "My father was a peasant and he bought land [in the village of Santa Rosa] because it was cheap," she says. 
Eufenia Garcia, who lived in San Miguel Los Lotes, the village closest to the volcano, lost 20 family members in the deadly avalanche of mud and volcanic matter on Sunday. Her family lived there for 32 years. 
Both women say they knew the volcano was active, but were so used to seeing a cloud above the crater that they didn't fear an eruption.
High-risk homes
According to official statistics, 52.8 percent of Guatemalans live below the poverty line, and almost half of all Guatemalans living in urban areas live in informally-built slums. In Escuintla, the department where the Fuego volcano is located, half of the population are poor, and poverty increased by nearly 12 percent between 2006 and 2014.
Nationwide, 1.2 million Guatemalans don't have access to safe housing. About 61 percent of that number live in sub-standard housing: tiny shacks with tin roofs located on mountain slopes, ravines, or urban slums, and with no running water or electricity.  
"Many farm workers are forced to [move] due to a lack of opportunities and land tenure issues. They don't have title deeds and lack access to credit, among other limitations," says Víctor Velásquez, director of the Guatemalan chapter of Habitat for Humanity, an international nongovernmental organization that seeks to provide decent and affordable housing for the poor. He says people don't live at the foot of a volcano or in a river gulley or other risky zones by choice. 
Fuego's eruption was the latest in a long series of deadly natural disasters that have claimed the lives of Guatemalans living on at-risk land. 
In October 2015, a landslide in El Cambray Dos, a working-class neighborhood outside of Guatemala City, left 280 people dead and 70 disappeared. Former Mayors Antonio Coro and Víctor Alvarizaes face criminal charges for ignoring reports from Guatemala's disaster agency that said there was an imminent threat to families living in the area due to erosion. A year later, survivors were still living in an overcrowded shelter, searching for permanent housing. 
Marcel Arévalo, coordinator of the poverty and migration studies department of the Latin American Social Sciences Institute, blames the rapid expansion of single-crop agriculture for the displacement of peasants such as Santizo and her family.  
"Throughout the country's history, the rural and indigenous population has been continuously dispossessed of its land and pushed to the mountain slopes and other high risk areas by an economic model based on agricultural exports," says Mr. Arévalo.
He says it dates back to colonial times, starting with coffee, then bananas. "Now, it's sugarcane and African palm" that are taking over land, because of their lucrative export price, he says. 
According to the National Institute of Statistics, the total surface area taken up by African palm monocultures increased by 33 percent from 2013 to 2014, whereas beans, a dietary staple for the rural poor, decreased by 70 percent. 
Mr. Wahba from the World Bank says that as climate change continues, along with a rise in the frequency of natural disasters; governments, civil society, and local communities are trying to find solutions. His team, for example, used to work more in disaster recovery, but today are focusing largely on risk identification, mapping, and risk reduction. 
But "risk management will only be effective if it's operating at various levels of society," Wahba says. "Community-level work is increasing significantly," such as programs in Colombia and Brazil where community members are "hired" by local governments to keep tabs on at-risk land, like steep cliffs or dried riverbeds, near where they live. They're charged with protecting the environmental resources in their community and preventing informal housing from going up on precarious land, Wahba says.
Rescue efforts are still active but have been hampered by sudden evacuations, as it is feared the volcano could erupt again any minute. Although the ground in the villages surrounding the volcano is still covered in hot ash, the air has a overpowering sulfurous odor, and the crater is still giving off thick, black smoke. Some evacuees are risking their lives to return in search for loved ones or to retrieve their animals and belongings. 
Faustino Pachac, a seasonal farmer, and his wife, Carmen Corado, returned to hard-hit San Miguel Los Lotes this week after hearing rumors that homes were being looted after the evacuation. 
"If no one helps us, we have to stay where we are," Ms. Corado says, adding that she feels she has no other choice but to return to the village. "Where else are we supposed to go?"
Whitney Eulich contributed reporting from Mexico City.