One of soccer's biggest games splits Madrid in two
The Spanish capital is torn over Saturday's Champions League final, which pits crosstown rivals Atletico Madrid and Real Madrid against each other.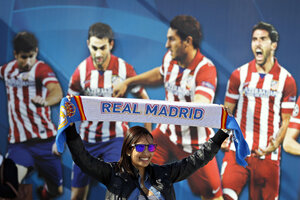 Joao Henriques/AP
Like never before, Madrid's soul is torn in two: white collar vs blue collar, "galactic" vs "humble," overbearing vs deserving.
The source of that divide? Madrid's two football teams are facing off in Lisbon for Europe's most coveted prize, the Champions League trophy.
Today's meeting between Atletico de Madrid and Real Madrid will be their first in the Champions League final, the most prestigious title after the World Cup. Atleti, as Atletico is known, has only once reached the European elite final, in 1974, and lost. Real Madrid has won the tournament nine times.
But the match isn't simply about the prize at stake. The Madrid rivalry transcend sports. It's a question of identity: the globally famous, rich, and powerful star-filled Real and its historically humbler, poorer, but perseverant underdog Atleti.
Both are top-caliber teams by European standards; Real Madrid is the top grossing team in Europe, and Atleti ranks 20th.
But in terms of money spent and success on the field, the difference between the two is stark. In the history of La Liga, Spain's professional soccer league, Real has won 32 titles, including 5 since the turn of the century. Atleti has tallied only 10, including this year.
In the last decade, Real Madrid spent nearly 1.2 billion euros in signing some of the best players in the world, including its top striker Cristiano Ronaldo of Portugal. Atleti spent only a quarter of that, according to consulting firm Deloitte.
The economic divide between the two clubs mirrors the difference between their respective fan bases. While flags and T-shirts intertwine throughout the city, the working class neighborhoods tend to support Atleti, while the middle- and high-class ones tend to support Real Madrid.
"Atleti fans come more from the working class, while Real Madrid is just a brand," says Miguel Abascal, a biologist, after hoisting a large Atleli flag on his car. "It's an uneven rivalry. We are visceral and they are arrogant."
Even the monarchy is of two minds over the rivalry: King Juan Carlos is a Real Madrid fan, while his heir, Prince Felipe, backs Atletico.
But Spain's capital has always split its love for its teams, and it is clear whose fans are more numerous. On the streets of Madrid, Real's white team colors far outnumber Atleti's red and white.
Still, the city hasn't seen so much of Atleti's red and white colors since 1996, when it won its last national title. It has arguably been the best year in Atleti's history, capturing its championship at the expense of both Barcelona and Real Madrid – not only the two strongest and richest teams in Spain, but also among the top ranked in Europe.
For Real fans, Saturday is a chance for revenge. They are furious their team let the national title slip away in the final stretch of the league, and winning the Champions League final is close to mandatory.
"If they win, fans will probably forgive its lack of ambition in the league," says Gonzalo Blanco, an engineer and die-hard Real fan. "Real Madrid's quality against Atleti's faith, tenacity, and relentlessness."
Real Madrid is indeed the favorite, but Atleti fans still hope for another miracle. "I tell my children this is historic and will probably not be repeated," says Juan Miguel Ramiro, a journalist. "I just can't imagine winning both the national title and the Champion's League."