American student 'confesses' to stealing banner in North Korea
(Read article summary)
Otto Frederick Warmbier, a student at the University of Virginia, is the latest American detained in North Korea. American tourism is on the rise, fueled by wanderlust and Christian evangelizing.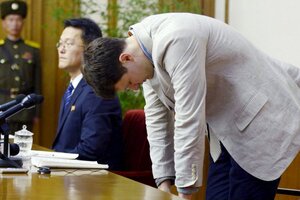 REUTERS/ Kyodo
A "confession" made by a 21-year-old American accused of trying to steal a Pyongyang hotel banner brought together several common threads in North Korea's frequent Western detainee dramas: young adventurers, Christian faith, and espionage.
Otto Frederick Warmbier, a junior at the University of Virginia (UVA), was detained on Jan. 2 as his group from Young Pioneer Tours, a China-based company, was trying to depart. On Monday, North Korea officials said he held a filmed press conference "at his own request" to repent for his attempt to remove a propaganda banner from the Yanggakdo International Hotel in Pyongyang, which the Democratic People's Republic of Korea (DPRK) considered  a "hostile act."
Reading from a statement, Mr. Warmbier asked for North Koreans' forgiveness, saying he was "used and manipulated" by members of his hometown church and the Z Society, a philanthropic group at UVA. 
"I never, never should have allowed myself to be lured by the United States administration to commit a crime in this country," he says in video provided to CNN. "I made the worst mistake of my life." Warmbier, who is dressed in slacks and a jacket, is seen crying and bowing. 
DPRK officials claim that Warmbier agreed to bring the banner home as a "trophy" from the country at the request of a woman at Friendship United Methodist Church in Wyoming, Ohio, in return for a $10,000 used car. If he were detained in the attempt, officials say, his family would receive $200,000. Officials also claimed the banner was a test for membership in the Z Society. 
The church and the Z Society, which the DPRK claims is connected with the CIA, deny that Warmbier was a member of either. The State Department, which strongly discourages travel to North Korea, has refrained from commenting on his case. 
For many of the roughly dozen Americans detained by North Korea – now released, with the exception of Warmbier and Kim Dong Chul, a naturalized citizen who says he was arrested in October, but whose status has not been confirmed by US officials – the "confession" was a familiar spectacle. 
Many of the past detainees have been freed only after officials wrangled high-profile visits from American officials or diplomats, often following similarly-scripted confessions. The United States does not have an embassy in North Korea, and relies on the Swedish Embassy to help coordinate services for Americans in the country.
Yet travel to North Korea, permitted for Americans since 2010, is not only legal, but growing, attracting an eclectic mix of curious and devout tourists reflected in the list of past detainees, which includes journalists Euna Lee and Laura Ling, two college students, and numerous people accused of spreading Christian scripture. 
About 6,000 Westerners visit North Korea per year, a tour guide told USA Today, and one quarter are American. Not everyone sees the new industry as a positive: apart from diplomatic complications, in the rare case of a detained visitor, there are accusations that closely-monitored tours, which show the state-approved version of North Korea, help fund an oppressive state, however small the profit.
For many seasoned travelers, however, North Korea represents the ultimate "go-to": a travel experience few others can brag about, in a country unlike any other. 
Cultural understanding is always a win, say major tour operators, including Uri Tours, Young Pioneer Tours ("going where your mother would rather you stayed away"), and Koryo Tours.
"Our belief is that there is value to tourism, and contact with local people," Andrea Lee, the CEO of New Jersey-based Uri Tours, told USA Today. "The more Westerners come, particularly Americans, the better relations will get." 
Warmbier's social media profiles, some of which were removed after his detainment, suggest he was an enthusiastic traveler. Zealous curiosity also shaped the odd case of Matthew Miller, a 25-year-old Californian freed alongside missionary Kenneth Bae after James Clapper, the US Director of National Intelligence, visited to secure their release in November 2014.
Mr. Miller told the Guardian that he had elaborately planned his own detainment in an effort to learn more about the country than his brief tour would allow, intentionally damaging his tourist visa, minimizing his digital footprint, and creating a notebook whose contents suggested he had state secrets.
"I was trying to stay in the country," he told interviewers. "The very first night they said, 'We want you to leave on the next flight.' But I refused. I just did not leave."
He called the experiment "successful," but regrets "wast[ing] a lot of time" as officials secured his release.
But for many Christian missionaries, who are well aware of the risks, traveling to North Korea is something to do because of moral qualms, not in spite of them.
Numerous Westerners have been detained for allegedly leaving Bibles or other Christian materials behind: Jeffrey Fowle, for example, was kept six months for leaving scripture in the northeast city of Chongjin. Mr. Bae, whose tour company was accused of trying to bring down the government, was a missionary whose work, according to Slate, was part of an evangelical movement to create Christian-owned nonprofits and businesses in the DPRK in hopes of subtly introducing North Koreans to the gospel. 
Pyongyang University of Science Technology, the first private university in North Korea, is funded by foreign Christian groups. Teachers are "not allowed to overtly proselytize," Isaac Stone Fish, an editor at Foreign Policy Magazine, told Public Radio International. But in their teaching, he says, they find ways to "pray with their eyes open."