Egypt: Gaza militants actually did launch Monday's rocket attacks from Sinai
After initial denials, Egypt said yesterday that Monday's rocket attacks on Israeli and Jordanian resort cities came from Gaza militants operating in the Sinai Peninsula.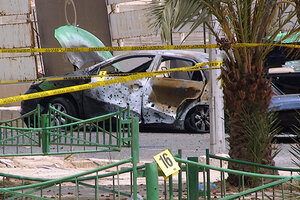 Abraham Farajian/Reuters
Egypt, contradicting its initial denials, has acknowledged that Gaza militants operating in the country's Sinai Peninsula launched the deadly rocket attacks on Israel and Jordan earlier this week. At least five rockets hit the Red Sea border area Monday, killing one Jordanian and wounding at least three others.
Egypt's state news agency on Wednesday blamed Palestinian factions from the Hamas-ruled Gaza Strip, operating in the neighboring Sinai Peninsula, for the rocket volley. This is the second attack believed to originate from the Sinai in four months, highlighting Egypt's ongoing internal security problems in the largely lawless, desert frontier.
"Egypt has long had serious security concerns in the Sinai and Egypt commits a lot of energy to keeping Sinai secure – not for the benefit of Israel, but for the benefit of Egypt," says Jon Alterman, director of the Middle East program at the Center for Strategic and International Studies in Washington. "Any largely unpopulated space is hard to secure and a lot of the security concerns in Sinai are linked to kinship groups that are extraordinarily hard to penetrate."
Tapping into Bedouin discontent
Restive Bedouin communities populating the mountainous desert area have long been at odds with the Egyptian government. Bedouins complain of state discrimination, lack of access to government resources, and racism.
Now there are growing Israeli concerns that Hamas, an offshoot of Egypt's banned Muslim Brotherhood, has tapped into Bedouin discontent. Bedouins are believed to have at least provided space for militants to operate, if not directly assisted them, in both the latest rocket attack, and a similar one in April.
"The rockets that could potentially be launched out of Sinai shouldn't be that altogether surprising. In a lot of ways, some of those populations feel much greater solidarity with what's going on in Gaza than say [those] in the mainland of Egypt," says Joshua Stacher, an Egypt specialist at Ohio's Kent State University.
Why Egypt's heavy-handed tactics could backfire
After a spat of bombings rocked Red Sea tourist destinations between 2004 and 2006, Egypt blamed Bedouins and militant groups. The regime refocused attention on controlling security in the Sinai, using heavy-handed tactics to subdue the peninsula. But some experts say the attacks are evidence that this approach is not working.
"The real problem is that ever since 2004, when the Sinai issue became a real problem, the Egyptian state has responded with the security apparatus rather than with a political incorporation strategy," says Mr. Stacher. "While that repression may keep some of the attacks down, I think that you're likely to see them continue."
In April, two Katyusha rockets were fired toward the resort town of Eilat in southern Israel; one landed in Aqaba in Jordan while the other landed in the sea. There were no reported injuries. Jordan alleged the attacks originated in the Sinai. Egypt denied the claim.
A pot ready to boil over?
Egypt's continued denial of problems in the Sinai complicates the task of securing the territory and increases the likelihood of more attacks, says Stacher.
"Given the local discontent that goes on in the Sinai, because they've never really been incorporated into the Egyptian state, coupled with this sort of increasingly conflictual regional dynamic, we're likely to see continued sporadic violence coming out of the Sinai," he says. "The water's boiling and if it keeps boiling and it gets hotter, it's going to come out over the top of the pot."