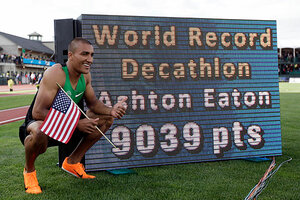 Matt Slocum/AP/File
2.

Ashton Eaton, USA (decathlete)

The winner of the Olympic decathlon, it is often said, wins the unofficial title of "world's best athlete." This year, that could be American Ashton Eaton. He certainly made a statement at the US Olympic trials, where he scored 9,039 points, breaking an 11-year-old world record. In London, as at the Olympic trials in Oregon, Eaton's top competition could be American Trey Hardee. Indeed, had not defending Olympic champion Bryan Clay made mistakes in the hurdles and discus, America would have a chance to sweep the medals. As it is, Clay failed to qualify.

Historically, the decathlon has been good to America. It was what got Bruce Jenner on a box of Wheaties, of course. And an American has stood atop the podium 12 of the 22 times a decathlon medal has been handed out since 1912. From 1936 to 1960, an American won the men's decathlon at every Olympics – a six Games winning streak.