N. Korea releases Australian missionary. A sign of human rights progress?
Some see the release as an indication of a charm offensive, but that goodwill does not extend toward those in North Korea's prison camps.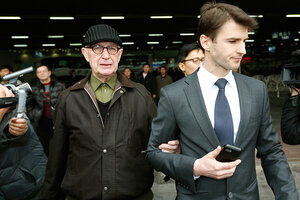 Vincent Thian/AP
The release on Monday of Australian missionary John Short from detention in North Korea suggests the North may be serious about what's often described as a "charm offensive" to show the regime's desire for reconciliation with the rest of the world, notably South Korea and the United States.
After Mr. Short confessed to "a criminal act by secretly spreading his Bible tracts," according to the official Korean Central News Agency, he was put on a plane to Beijing, where he said he was "very very tired" from the two-week ordeal, but unharmed.
The reality, however, is that North Korea is showing no such humanitarian instincts toward its own people. The harsh facts are recounted in a lengthy report compiled by a commission appointed by the UN Council for Human Rights and released last month. The report, likening conditions in North Korea's prison camps to those in Nazi Germany, accuses the North of such severe "violations of human rights" as to "constitute crimes against humanity." 
The report's findings provide fodder for global condemnation of North Korea. Secretary of State John Kerry described the North as an "evil, evil place."
Another reality, however, intrudes.
The rest of the world, including the countries with most at stake in the region, can do little if anything to act on the report's findings. For starters, the report will probably never result in hearings by the International Criminal Court in The Hague because China, the North's sole ally and the source of 80 percent of its fuel and half of its food, can use its veto power in the UN Security Council.
What about the inference of Commission Chairman Michael Kirby's remark, after releasing the report, that "other nations could not say of North Korea, as happened with the Nazis, that they did not know the extent of the crimes."  There would "be no excusing a failure of action because we didn't know," he added, not specifying what action, leaving open the option of force if all else failed. 
Following that logic, what if other countries, led by the US, were so exercised as to consider military action to open up the camps, in desolate regions far from Pyongyang, and free and then care properly for the prisoners? Why not relieve them of their suffering just as critics have contended the allied powers of World War II should have done after hearing of the slaughter in Nazi camps long before Germany's defeat?  
In reality, however, the nations with the most at stake on the Korean peninsula are not going to consider a rescue mission that could precipitate the Korean War II.
The inevitable result would be catastrophe, warns Kun A. "Tony" Namkung, who has traveled to North Korea many times as an adviser to Bill Richardson, the former New Mexico governor, and to American companies. North Korea, he notes, has nuclear weapons as well as more than a million troops and hundreds of artillery weapons that could rain death and destruction on Seoul, among other targets. 
That's a much more daunting reality than a Chinese veto, but it doesn't mean the US is powerless.
"The US role should be to facilitate inter-Korean dialogue," says Mr. Namkung, preparing to return to Pyongyang next week. He believes North Korea is ready to accept a "two-state formula," acknowledging the South as a separate independent country. No longer would North Korea view the South as a subordinate of the US, and it would open its borders to commerce while agreeing to normal mail, Internet, and telephone service.
"Freeing this pastor is the latest sign," he says. While in Pyongyang, Namkung will ask about freeing Kenneth Bae, the Korean-American travel agent who was arrested in November 2012 and sentenced to 15 years for distributing religious material. He remains hopeful, noting that Bae has received visits from Swedish diplomats representing the US in North Korea and that his mother has visited as well. 
That still leaves the final terrible reality – no end in sight to the suffering of thousands of North Koreans while the North calls the UN report "a political plot aimed at sabotaging the socialist system."