The Next Wave: On the Hunt for Al Qaeda's American Recruits
A TV journalist tracks the 'next wave' of terrorists – the home-grown variety.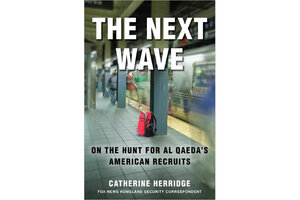 Fox TV reporter Catherine Herridge has seen the face of terror, reporting from ground zero after 9/11 and from a Guantánamo Bay courtroom – where she observed plot mastermind Khalid Sheikh Mohammed close up. She admits that for her the story is personal because she has two young children that she hopes to raise in a terror-free world and also because her husband is an Air Force major who was deployed in Afghanistan in 2009. She doesn't admit to a political bent, but it seeps out periodically.
The thesis of The Next Wave: On the Hunt for Al Qaeda's American Recruits is that home-grown terrorists are the threat tsunami of our recent past, present, and future. These Jihad Joes and Janes are American citizens, speak English, have clean records, American passports, and mass murder in their hearts. Herridge reminds us that they could be our neighbors. She also promises the reader, "What we discover together will surprise and anger you. It will change your view of the future. It will also change how you see those behind the 9/11 attacks."
---