On a Farther Shore
On the 50th anniversary of the publication of "Silent Spring," William Souder offers a compelling portrait of Rachel Carson and the birth of the environmental controversies we know today.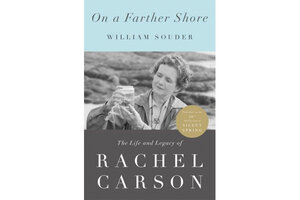 In the mid-20th century, the idea called conservation died and rose again in a pessimistic, partisan incarnation known as environmentalism, which hinged on a central idea: mankind must be saved from itself. The writer who precipitated that transformation was Rachel Carson, author of "Silent Spring," a book that indicted the overuse of pesticides in the 1940s and 1950s. William Souder's On a Farther Shore: The Life and Legacy of Rachel Carson, published on the 50th anniversary of "Silent Spring," is both a biography of the woman behind this seminal work and a history of humanity's relationship with nature in the mid-20th century.
That relationship had become tenuous in the years leading up to "Silent Spring." In the late 19th and early 20th centuries, prevailing wisdom held that humanity should conserve nature by creating natural reserves and protecting endangered species. But by the mid-20th century, the game had changed. New discoveries allowed scientists to manipulate nature with disconcerting results. A barrage of nuclear tests in the South Pacific, the American Southwest, and the Soviet Union caused radioactive ash to fall like snow in parts of the United States. Intensive pesticide spraying resulted in food contamination and deaths of workers brought into prolonged contact with pesticides. Souder brings these environmental disasters to light with harrowing details, such as his description of a Japanese fishing ship whose crew developed horrifying symptoms after sailing too close to a hydrogen bomb test.
---