Fresh Off the Boat: A Memoir
Celebrity chef Eddie Huang's memoir offers a hilariously unflinching look at the American dream from a 21st-century immigrant's perspective.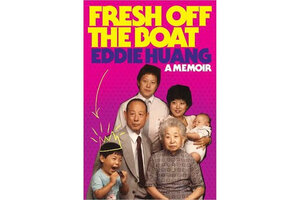 Eddie Huang talks with his mouth full. In his passionate, articulate, and totally full-of-himself memoir, Fresh Off the Boat, the outspoken chef and restaurateur graphs his evolution as a cook, finding a way to relate every life experience to food. Like the Tupac Shakur poem "The Rose that Grew from Concrete," Huang has come through trials to success. "Fresh Off the Boat" is a deeply personal and unflinching look at both the thorns and blossoms of his life to date. Be forewarned, this book doesn't hold anything back and contains strong language and graphic detail.
With a writing style influenced by Jonathan Swift, Lao Tzu, and Ghostface Killah, Huang uses hip-hop/rap vernacular – often perceived as ignorant, arrogant and shallow – to craft a passionate and articulate memoir. Boy's got that ethos, logos, and pathos on lockdown. He has brought hip-hop culture from the rap scene to the kitchen.
As Huang tells it, he's spent his whole life striving for authenticity – in himself and in his food. "My food was, is, and always will be ill." He evolves as a cook, moving from work as a young expediter in his father's restaurant on to food experiences in Pittsburgh and his parents' native Taiwan. He lands a gig as an amateur chef competing on the food network, and finally goes on to open his critically acclaimed "Baohaus" sandwich shop on the Lower East Side of New York. His life story weaves big themes of racism, assimilation, abuse, violence, drug use, materialism, basketball, and humor together.
---