'Lean In' boasts strong sales, largely positive reviews
(Read article summary)
'Lean In' by Sheryl Sandberg, a book addressing women in the workplace, drew controversy even before it was published. But it now seems to have won over many reviewers and readers.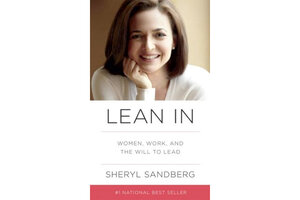 The announcement that Facebook chief operating officer Sheryl Sandberg would publish a book about the workplace, women's role in it, and how gender inequality still affects all of us, seemed to be greeted with equal parts anticipation and dread. Some potential readers couldn't wait to hear what Sandberg would have to say, while others predicted that it would just be another salvo in the "mommy wars" – the endless debate over whether or not women who are parents should work full-time and what is best when raising children.
"Thirty years after women became 50 percent of the college graduates in the United States, men still hold the vast majority of leadership positions in government and industry," proclaimed the book's publisher, Knopf Doubleday. "This means that women's voices are still not heard equally in the decisions that most affect our lives… Sandberg digs deeper into these issues, combining personal anecdotes, hard data, and compelling research to cut through the layers of ambiguity and bias."
Sandberg's book was released on March 11. Today, holding the No. 1 position for hardcover nonfiction sales on The New York Times bestseller list, the book has garnered largely positive from book reviewers.
"Sandberg ... has written a brave book that is unabashedly personal and political," Monitor reviewer Anna Clark wrote. "'Lean In' serves as a kind of philosophical and practical toolkit for women with ambitions of all kinds, and an education and inspiration for men who are aware that their workplaces and home lives are diminished when women are only a fraction of who they can be."
---